Before I knew anything about the painting in today's featured image, I took  a photograph of her.  She is part of the permanent collection in Santiago's Belles Artes Museum.  A woman alone on a train, going somewhere, accompanied by a book. The 1928 painting is by Chilean artist Camilo Mori and is titled La Viajera, "The Female Traveler." Her expression suggests she is deep in thought. About what? The landscape passing by? Something  she is reading?  An experience she just had? I can find little about the painting online that is not in Spanish.  La Viajera did cause me to wonder about the word traveler, as opposed to tourist.  I suppose time and intent distinguish the two ways of  being away from one's home.
Americans I have met on day tours  in Santiago usually ask me what cruise I am taking.  I did not know there were cruises to Chile. Apparently there are many cruises from Buenos Aires, around Patagonia and up to Valparaiso, which is about 60 miles away from Santiago.  Busloads of tourists come for a day of sightseeing in Santiago and lunch in Mercado Central.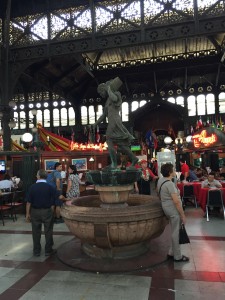 After two disappointing lunches in Mercado Central, I decided it really is mostly for tourists so the restaurant  does not have to be concerned about repeat business. The market is interesting architecturally, with its metal roof and statuary fabricated in Scotland in the early 1900s. And it  is the main fish market in town. Watching people haggle with the fishmongers over the price of the daily catch is worth a bottle of water to pay for a seat on the outskirts of the main dome.
Off the beaten track, I have managed to eat some delicious meals.  A Chilean specialty is Cazuela:
What appears to be a heavy meal is actually quite light, given that everything is simply boiled, including the beef brisket or chicken,  in water with spices. It is vegetable rich fare and includes carrots, acorn squash, green beans, potatoes and a wedge of corn on the cob.
Since the wine tour in Argentina was instructive, I decided to take a half day tour  to a Chilean vineyard, Undurraga. One thing I learned  from my border crossing in the Andes is that Chile imposes harsh penalties on anyone attempting to bring fresh fruit or vegetables into Chile, including a passenger on my bus who forgot he had a banana in his backpack. No forgiveness. Immediate $250 fine payable on the spot or you cannot enter Chile. Not only is the grape harvest at risk from unfamiliar strains of fruit fly infestation, the entire agriculture could be at risk.  After minerals, like copper and lithium, agriculture is the second source of income to the country. Shopping for blueberries and respberries and strawberries right now? Probably imported from Chile.  Ever see watermelons this big?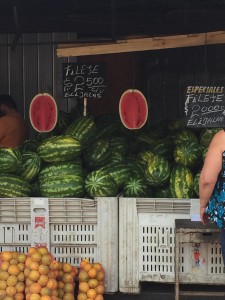 But back to the winery… the grape known as the Carmenere originated in France, in Bordeaux,   and some vines were imported by Chile in 1850. In 1867, a plague in France killed the carmenere vine so they are found now almost exclusively in Chile. The average grape vine produces fruit  for 45 years. Some vines are over 100 years old. The soil is prepared carefully with stone drainage two feet below the planted vine.  Each vine requires 3 liters of water a week.
---
---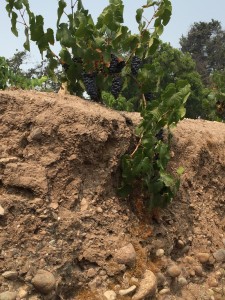 Interestingly, most Chileans do not drink wine.  It is a crop grown for export and local tourists.  Chileans drink beer, made locally, and Pisco drinks, notably Pisco Sours. And one other local drink known as a "terremoto," meaning earthquake.  This concoction is made from cheap, fermented sweet white wine to which pineapple ice cream and Pisco has been added. On the Tours4Tips walking tours I have taken here, the walk ends in a bar where the group is offered a splash of Terremoto. To say is tastes sugary is an understatement.
As I look over this post, it appears that I am constantly in motion. Busy, busy, busy. Actually, I am not. I stay mostly in my neighborhood, Providencia, and  live more or less like a local. I have my favorite fruit stand seller and cafe where I love the salads and walk about this interesting neighborhood.  Once a day I take a three hour trip away from Providencia by metro or Uber to see one of the many museums or simply hang out at Plaza de Armas.  I spent the bulk of one morning trying to track down a place where I could have some clothing repaired. Finding the tailor was the highlight of my day. His place of business is in a tiny shopping mall on a side street and his shop is about 6′ by 6′ square, piled to the ceiling with bags of clothing and threads of every color.  He has space only for a sewing machine and a chair. The repairs were perfect.  Asked if I could take his picture and he agreed: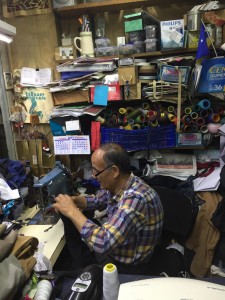 ---