As mentioned in a previous post, the tony South Side of La Paz is unwelcoming to indigenous Aymarans. And the newly wealthy Aymarans do not want to live on the South Side because, money or not, they wish to preserve their local customs, which includes washing clothes by hand and hanging them out to dry and cooking outdoors. And for the women to continue wearing their full skirts and bolero hats. The featured image shows how some wealthy Aymarans are spending their money: they buy up buildings in their impoverished communities and turn these structures into money making ventures and luxury living. The structures have a profitable business on the first floor, an event hall on the second and third floors, a rental apartment on the fourth level, and a private residence on top.
Apparently, having an event hall in your home is a good investment since Aymarans spend money hosting lavish birthdays, anniversary and wedding parties. These halls are decorated in the Incan motifs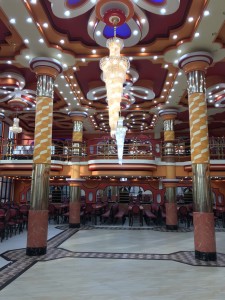 That these Cholets look totally out of place matters not. The only zoning laws in La Paz have to do with whether or not the land can bear the weight of the proposed structure: office building, high rise or low dwelling.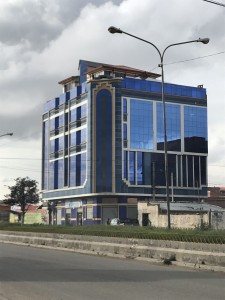 Below is a subsidized condominium housing project that failed, in that the location is too far away from cable car access or any other transportation. It is a 200 family structure but only 40 families have purchased. You need a car to live there. Most families cannot afford a car. It is a remarkable art project, however. All the buildings are painted with Incan symbols. As I was posing for this photograph, from the store next to where I am standing, I hear Coldplay singing "Paradise."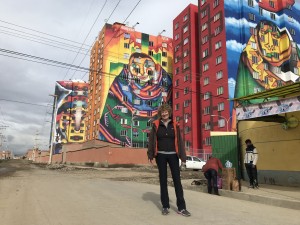 ---