Who knew there are so many colors of dusk. We were prepared for only 4 hours of daylight in Iceland yet it is light enough between 9:30am and 4 pm. We arrived at the Blue Lagoon from the airport yesterday morning and were in the hot springs by 9:30 enjoying the sky. Yes, it is touristy. But this early in the morning there were few people. The thrill of the place is the feeing of icy winds on your face and chest while your lower body is enveloped in delicious swirls of warm current.
This picture of my granddaughters and me was snapped about an hour before sunrise.
The countryside is barren and eerie in a compelling way. The pale skies above contract with the black lava strewn earth topped by years of accumulated emerald algae. And puffs of steam from the geothermal springs dot the landscape.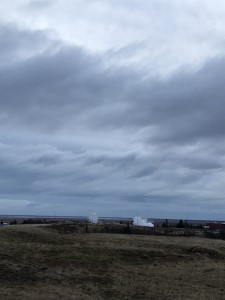 We are staying in the village of Sveitarfelagio Olfus in a simple yet comfortable hotel, Frost and Fire. Yesterday we went for a hike in the surrounding area near the hotel and walked into town. There is some danger in exploring due to the geothermal activity, mud slides, etc. but there was a path. And we stuck to it.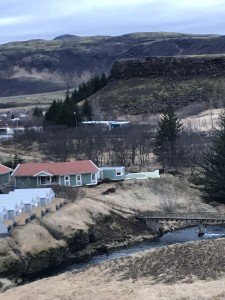 ---