Mercifully, the mini vans, the local "bus" service, are on strike today until 6 pm, leaving the streets and intersections clear and crossing the steeets less hazardous.Have to say, getting around on foot, my favored mode of transportation when I travel, has been curtailed here in La Paz. I only cross an intersection, always clogged with at least a dozen cars, by crossing with a woman holding a baby and falling into lock step with her. Within an hour of arriving to my hotel I was clipped by a car and fell. Fortunately, I was not injured, not even a bruise, but I sure was scared. Many shopkeepers came to my assistance, brought me a chair, insisted I remove my shoes and socks so they could examine me. All a comfort. Now, when I walk down the street to purchase my bottled water, I am recognized and fussed over. Since that experience I have been extra cautious and last night did not go to the restaurant I wanted to go to because I would have had to cross a particularly busy intersection and it was dark. There are traffic lights. No one obeys them. I came back and ate at my hotel. Today pedestrians have a respite and I will be back from my tour by 6 pm when the mini vans take to the streets again.
Having heard all about San Pedro prison from tour guides and reading about it on line, I walked over to the prison this morning to see for myself.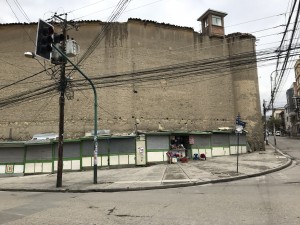 Not inviting. The prison sits right on the lovely San Pedro square. It has a storied history. Said to produce some of the best cocaine in he world, the prison functions as a society unto itself. There are no guards inside. The only role for a guard is to determine who goes in the front and only door and who goes out.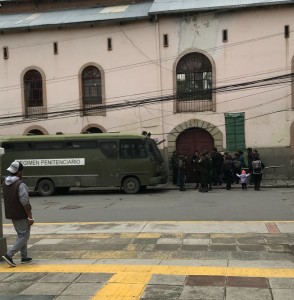 The prison rules itself through "officials" who are elected within the prisoner population. Every man must pay for his cell so if he is a rich drug lord, he can have a swank apartment with private bath, hot tub and cable TV. If he is poor, he may have sleep in a hallway. The prison has several restaurants and bars. Families live there with their incarcerated member. Ten years ago a young backpacker was arrested and thrown into San Pedro. When he was released he wrote a memoir, Marching Powder. Brad Pitt bought the film rights but has yet to make the movie.
---