Unless you already know this true story, I am here to tell you that you can't make this stuff up.  The featured image is part of the permanent collection at MONA, Museum of Old and New Art. The brainchild of David  Walsh, an eccentric professional gambler and math genius (much online about him),  MONA brings in about $100 million a year in tourist revenue. To get to the museum you take a 30 minute ferry ride to a working class suburb of Hobart, where Walsh grew up, then walk  up 100 steps: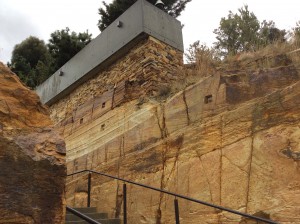 This stone wall motif is maintained throughout the museum, four floors underground. Actually, the museum itself is more fascinating than the art.  Their are ramps and stairs and more stairs and it is very dark and you learn about the art work by carrying an Itouch and wearing headphones.  You can listen to an interview with the artist or listen to music that was created to accompany the art piece. The big exhibit was Gilbert and George. Huge scatological installations which I decided not to photograph, much less post on my blog.  There were rooms and rooms of these guys art.  I did like some of what they said: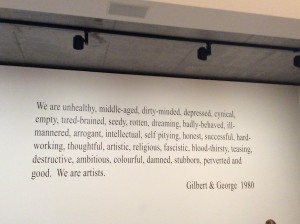 And this is the only piece I sort of liked, mainly because it did not feature the penis of either one of them: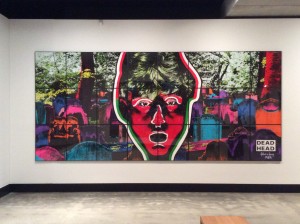 Salamanca is the major art district of Hobart. My favorite coffee spot is here in front of the Peacock Theatre.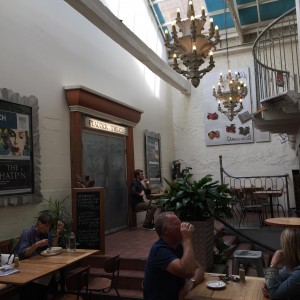 And there were some paintings I liked but could not afford.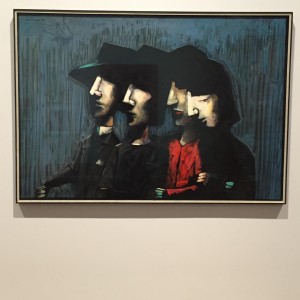 Actually, this one is in a museum and is titled, "The Theater Party." And the one below cost many $$$$: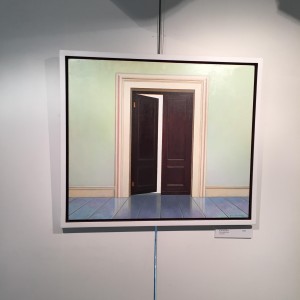 Salamanca is at the bottom of the hill from Battery Point, which is an historic district. Houses on this street were built in 1840 or before: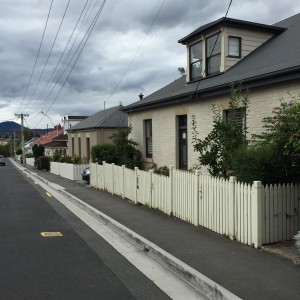 And, this house can be yours for  US $650K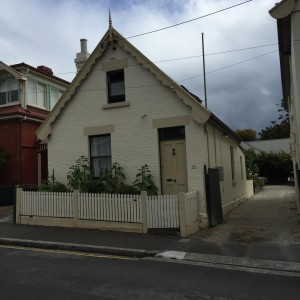 ---