I'll start with the odd.  The featured image is of the Royal Ontario Museum.  More accurately it shows the original Museum with an addition built in 2007. Reaction to the huge angular structure, which dwarfs the original Museum, has been mixed.  Not only is it jarring to the eye, it is not art friendly or patron friendly.  There are so many angled walls inside that it made me feel the building was collapsing. The foyer is vacant and unwelcoming.  An effort was made recently to correct the barrenness with the  installation of a giant pink dinosaur skeleton, which accentuated the barrenness for me.
Walking around one sees lots and lots of tall buildings, which is not particularly interesting unless you capture the cityscape in different shadows and light: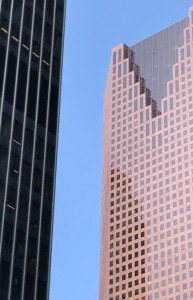 The above was taken in the financial district. As was the one below: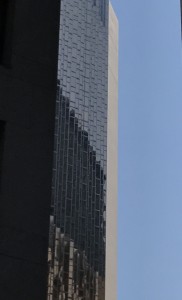 Walking through a courtyard  felt luxurious while under this "roof."  I tried to imagine how the glass would look when it was snowing.

Yesterday in the afternoon I took a walk through neighborhoods near the hotel. Almost every house has the architectural element of a triangle somewhere along its roof line: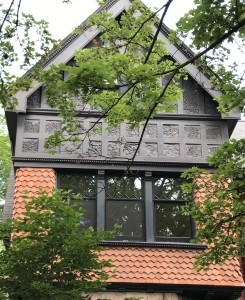 Rounding a corner the house below drew my attention. For several reasons.  First, I saw the Greek letters for DKE.  Second it was 5 pm and the guys were out on the deck drinking.  Good ole Deke fraternity that I remember well from undergraduate Tulane days.  The Dekes, always the first to open the bar and the last to close it. And, they were all wealthy and had a gorgeous frat house.  So here are the Dekes at University of Toronto situated in an upper class neighborhood.  Some things stay the same.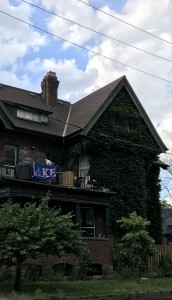 ---