The featured image is from an Inuit exhibit at the Gardiner  Museum of Ceramic Art in Toronto.  Creating ceramics in the Northern Territory presents many difficulties such as transportation costs to deliver clay and glazes as well as the high cost of running electric kilns.  Artists have risen to the challenge. A current popular aesthetic is the mottled white to dark brown finish, achieved by applying liquid clay before the first firing.  The work is then sawdust fired to create the mottled effect.
Inuit artists working in a more forgiving climate tell tales from their 15,000 year history.  The three paintings below are being exhibited in the Art Gallery of Ontario.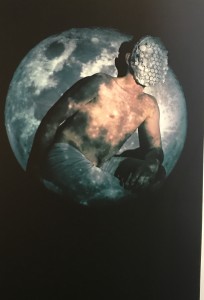 In his statement, the artist, Humbolt Magnussen, says the history of the moon is similar to Canada's history- settlers came here and wanted to own  it.  But this is to forget who was here first. The moon is part of everyone's landscape but impossible to own.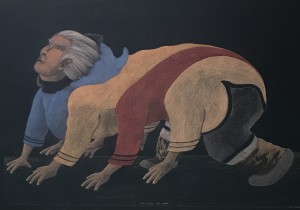 The painting above depicts an ancient Inuit legend, EET-EEPOW.  It shows a shaman in the process of transformation to a multiple-limbed being and is a powerful confirmation of the continuing resiliency of the Inuit.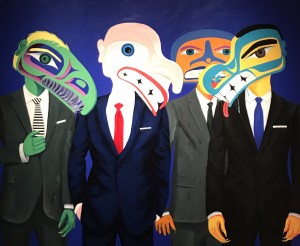 Now here is a diversity statement!
I have the good fortune to be here during an exhibit on tour of Georgia O'Keefe's work covering six decades. No photography was allowed except for this wall sized photograph of the artist: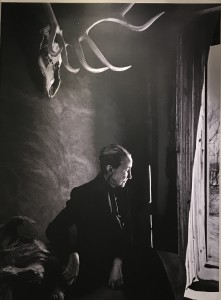 ---