Starting with the best part of driving from Ellicott City, Maryland, to Toronto and back:  the scenery. There is really only one  four lane road from Pennsylvania through Western New York, US 11/15.  All the tiny towns nestled among windmills, lakes, mountains  dotted with freshly painted red barns, made for a beautiful drive.  The problems came when I stopped.
Between Corning and Buffalo there  is almost no place to eat, very few gas stations that have no bathrooms except for a general port-o-potty out back.  I have written already about my accommodations in Niagara Falls.  Were I to do it over again, I would have made a reservation at Holiday Inn Express in Buffalo. On the drive back home, I made the mistake of not pushing myself to drive on to Corning and stopped  10 miles outside the city limits where I saw a Ramada Inn sign.  Figuring this would be decent  enough, and it was 7:30 pm, I pulled in and got a room.  The motel was clean but worn.  It had not been redecorated since the 1950s. There was no place to eat in this town except in the Inn.  The only items on the menu that were not fried were the mac and cheese and the cole slaw. So, that was dinner.
Although there were signs everywhere that said if you smoke in your room you will be charged a $150 cleaning fee, my room had been smoked in for decades.  No amount of cleaning can erase that odor; cleaning just lessens it. The driving distance between Buffalo and Corning is 4 hours.  Best to  eat, gas up and go before you  need to stop again.
Toronto is a beautiful University town. And, it attracts extraordinary art exhibits. In addition to my seminar on the Alexandria Quartet, which was intellectually rich, two exhibits unsettled and moved me.
The Power Plant  is a small gallery on the waterfront. As always, I like to enter an exhibit "without memory or desire." I take in what I see before I read about what I am looking at.  The exhibit  was called "From Her Wooden Sleep."  I entered a room and here is the first thing I saw: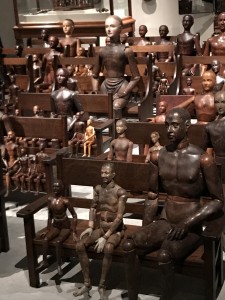 A seated audience of 100 or more dolls. All staring in the same direction, totally absorbed by what they are looking at: more dolls on a stage. They looked completely life like and ranged in size from miniature to  regular sized men and women.  The effect was that I had wandered into a tight knit community or even secret society  of which  I am definitely not a part. The walls were decorated with fun house mirrors, which as I looked about,  seeing only my distorted reflection, served to increase my sense of alienation and depersonalization.
As I read some of Ydessa Hendeles statements about her own work,  the one that  caused me to settle down in viewing this disturbing tableau vivant is this: " Human beings need to relate.  No one can be isolated from the crowd." Yes, we are relational creatures.  Without human mirrors to reflect ourselves back to us,  we cease to exist.
Hendeles also has some remarkable oil paintings of characters from  Grimm's fairy tales.  Do not remember this girl or her story: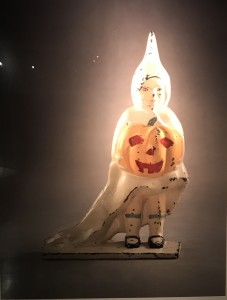 But I do remember Puss n Boots:
---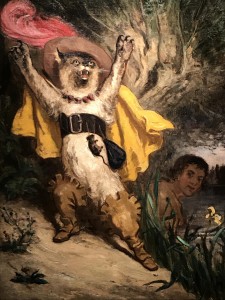 The second exhibit, at the Royal Ontario Museum,  was disturbing in a different way. Again, not knowing what was meant by The Evidence Room, I walked around the exhibit of several rooms where  everything was painted white.  The stark white communicated something ominous.  The absence of any color brought to mind  what I see just before I lose consciousness under anesthesia. My last sensation is that everything turns white.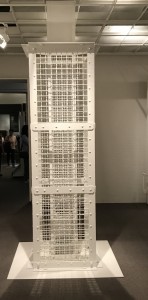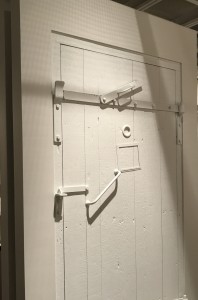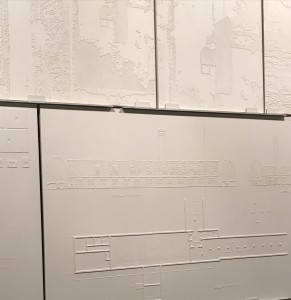 In a landmark Libel case in London in 2000, expert testimony provided archectectural forensic evidence from the remains of the gas chambers and crematoria at Auschwitz, attesting to the truth of the Holocaust.
The Evidence  Room exhibit consisted of life sized replicas and casts of key pieces of archictural evidence (a gas column and a gas-tight hatch  –  both for the introduction of poison into the gas chambers – a gas chamber door, blueprints, architects' letters, contractors' bills and photographs).  Taken together, they provided proof, beyond reasonable doubt, that Auschwitz was a purposefully designed factory of  death, equipped with large, homicidal gas chambers and massive incinerators.
---