The featured image is of a mate (pronounced mah tay) gourd. Drinking mate is an indigenous ceremonial practice among friends  to promote conviviality, similar to passing a peace pipe or marijuana. Mate comes with its own paraphernalia: yerba mate, a strong herbal tea loaded with caffeine, the gourd, a bombilla (straw) that is made of metal and has a filter at the bottom, and a thermos of water with a temperature of 150 degrees.
.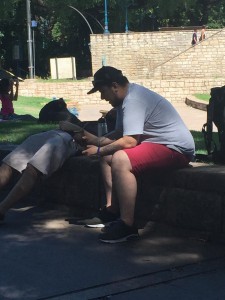 This is what Sunday looks like: pictured above  are two friends this morning in the Plaza Independencia drinking mate and relaxing.  If you enlarge the photo you will see both the mate gourd and the thermos.  The entire park is filled with families and friends with thermos bottles of various sizes passing around the gourd.  The mate ritual is pour, pass and sip, going in a counterclockwise direction and taking care to not disturb the bombilla.
Almost everything shuts down on Sundays in Argentina.  The reason seems to be more cultural than religious: everyone needs a day off. As Bruce Chatwin writes in his masterpiece, which I am re-reading for the fourth time,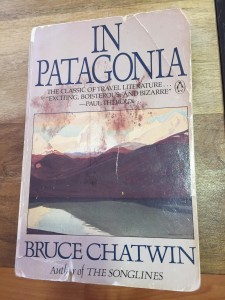 "The history of Buenos Aires is written in its telephone directory. Pompey Romanov, Emilio Rommel, Crespina D. Z. De Rose, Ladislao Radziwil, and Elizabeth Marta Callman de Rothschild – five names taken at random from among the Rs – told a story of exile, disillusion and anxiety behind lace curtains." His book tells stories of immigrants from Italy, Ireland, Latvia, Russia, Germany, Poland,  Wales, South Africa – and do not forget Butch Cassidy, the Sundance Kid and their woman, Etta Place,  who resided in Argentina for many years in Cholila. In Mendoza there are monuments erected to honor  the many local Jewish residents, as well as the Muslim population.
That the country shuts down on Sunday is issued as a warning to tourists in the guide books for Argentina and recommends either traveling that day or befriending someone local who might invite you to a Sunday asado.  (BBQ)
Mate and asados are usually  associated with gaucho ( South American cowboy) history: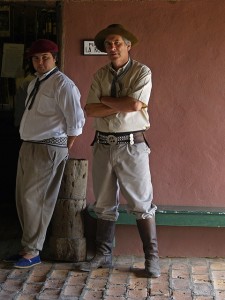 Known for having virtually no possessions except their horses, their mate equipment and their facon (knife/eating utensil) they exist on mate, which doubles as a liquid vegetable, and beef BBQ.
Asados vary in quality.  The first time I was in Argentina in 2011, I visited an Estancia and found the asado inedible. I was reminded of this a few nights ago when I was reading Chatwin's account of an asado in the home of a Welsh family:  "At dinner the waiter wore white gloves and served a lump of burnt lamb that bounced on the plate."  On the other hand, during my 2013 trip to Patagonia, the asado I had at one of the Estancias was scrumptious: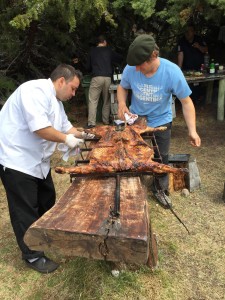 Given also the scarcity of taxis today, I have simply enjoyed the weather walking to and from numerous parks, watching people.
---