Mendoza is not a flat out desert, but it is first cousin to one. Nestled at the foot of the Andes, Mendoza is arid and subject to earthquakes.  The entire city was destroyed  in 1861.  Yesterday I took a walking tour of the New City, which is designed to minimize  earthquake damage to people and property. Arches are a central feature in most structures as a place to seek shelter during a quake. So how can this desert city that has little rainfall support lush greenery?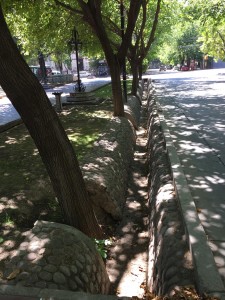 Pebble lined canals flank the streets where enormous trees are planted.  The water comes from snow run off from the city's close neighbor: the Andes mountains. My tour guide said the last winter was not cold enough to produce the needed  snow melt and that the city was very worried.
Not only do trees line the streets, but there are five city parks, in a relatively small central business district, that are beautifully planted.  My favorite of the parks is Plaza Espana, which celebrates Argentina's relationship with Spain.  The sidewalks and benches are decorated in Spanish tiles: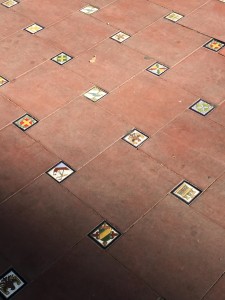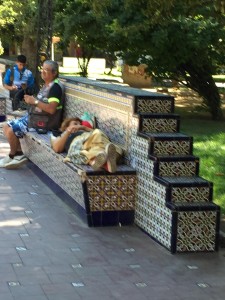 The plantings in Plaza Espana are species donated from countries around the world.  This one is a Cotoneaster, a gift from China.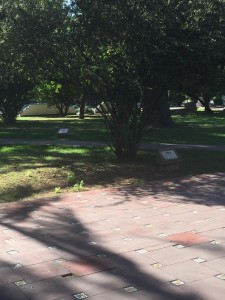 Mendoza and I did not hit it off initially.  The first two days were marked by my feeling overwhelmingly lost. If it was difficult to come by a street map in Buenos Aires, it was impossible in Mendoza.  My dear  AirBnB host gave me a map, but I could not make sense of it.  When I took my New City walking tour yesterday,  the guide showed me why I was having difficulty.  The streets keep changing name.  I was getting lost because  I would head for a street and follow it for awhile only to see the street disappear.  Aha.  Now I get it.  So today I found my way to every place on my list!  And, I was stopped by three  English speaking people asking me where I had found a map.  Who knew how valuable this piece of paper would be?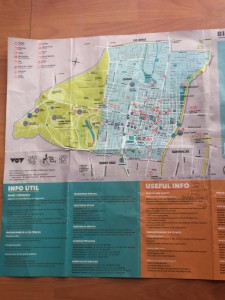 The large green area on the map is the Park of San Martin, which is adjacent to downtown.  Learning about this park is a day trip in and of itself so I have not been there to explore.  What caught my attention  in the city Central Park, Plaza Independencia, is the detail on all the benches: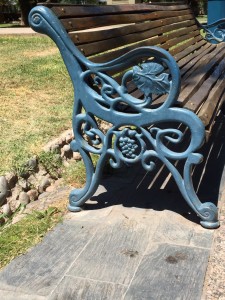 Mendoza is Argentina's wine capital, after all.
---