Who knew there is a year round tomato farm in Iceland? The featured image shows my granddaughter, Rowan, sitting at a table decorated with a vase of fresh basil. We had lunch here this afternoon. The entire menu features only tomato recipes: tomato beer, bloody Marys, soup or a stack of tomatoes on a skewer and for entrees there was a tomato tortilla, pizza or mussels in tomato sauce. Dessert featured tomato cheesecake or tomato ice cream. We tried everything except the alcoholic beverages. All dishes tasted especially fresh.
We received an email early this morning letting us know if we kept our snowmobiling tour this afternoon there was zero chance to see the northern lights. The company asked if we wished to reschedule but we have no time to reschedule so they sent us a refund. We regrouped around places we could drive to where there was a lot of exercise. This morning we walked the Teutonic plates, the divide between the North American continent and Europe.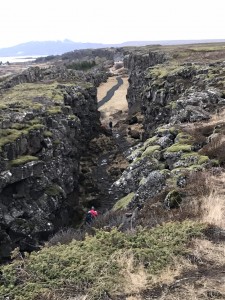 For any of you who are Game of Throne fans, where we walked today is the site of the filming of this TV series. The scenery would contribute to any dramatic film, what with the craggy, dark stones, crashing crystal water, etc.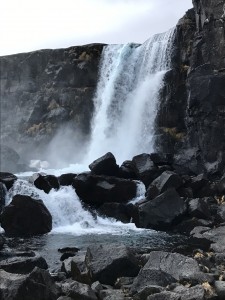 Speaking of water, we stopped to get a few snacks to tide us over until lunch (reservations were for 4 pm) and I purchased a $3 bottle of water. The cashier said wryly, "Save the bottle and refill it at any stream, river or waterfall you pass by; that's where the bottling company gets it."
Next we went to see the Gullfoss waterfall. You probably have seen many professional photos of it. What attracted me more was the backdrop of the falls: the everchanging patterns of the sky. In the 30" we spent climbing to and back from this magnificent glacier, the sky went from: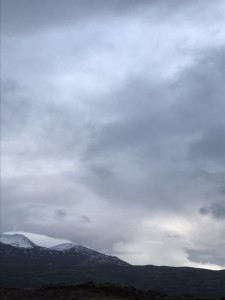 To: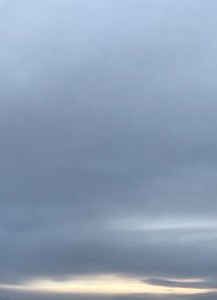 To: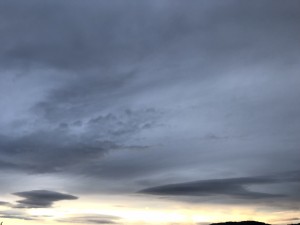 To our first glimpse of the sun since arriving in Iceland. It is starting to set here at 3 pm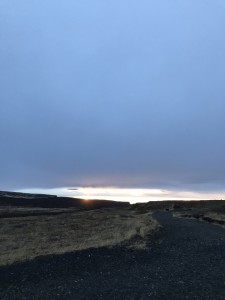 ---