Iceland's winter, August to April, is the only opportunity to see the northern lights. As well, they are visible primarily in the dead of night and the sky must be totally clear. It has been mostly cloudy this trip with intermittent rain. Last night the sky cleared and we were told we might catch a glimpse around midnight. And we did! The eerie green cloud like formations do not last long. They linger five minutes or so then vanish as strangely as they appear.
Yesterday we had a tour planned to go glacier climbing and seeing other sights along the south coast, starting with a waterfall: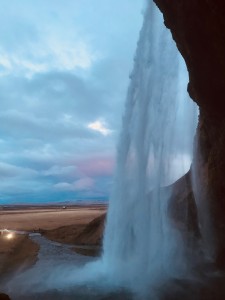 We arrived at the waterfall shortly before sunrise. Everything about Iceland is related to volcanic eruptions. The land, especially closer to volcanos is black. Only hay grows here. Farmers raise sheep and cattle, no vegetables. Houses appear rarely. You can drive for miles and not see another automobile. The population of the country is 450,000; 200,000 live in the capital. Most of the other towns are a population of 2,000 or less.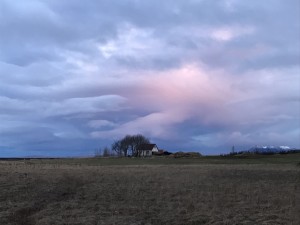 We stayed in the town of Hveragerdi, meaning hot springs. In front of the hotel is a geothermal spring equipped with an oven where the hotel restaurant bakes bread everyday. Or, rather steams it. It takes 24 hours to cook the bread. The sticks and rope slings pictured below are for cooking eggs. This is a summertime activity because you have to be able to see your way to the spring and in the winter it is too dark at breakfast time to walk there safely. For hard boiled eggs, you hold the rope basket over the steam for 10 minutes.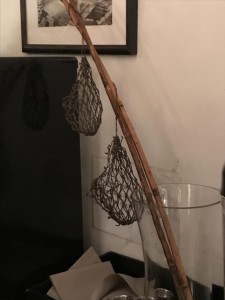 We also went to black sand beach where the sand is black as pitch. It is comprised of crushed volcanic rock and is not foot friendly.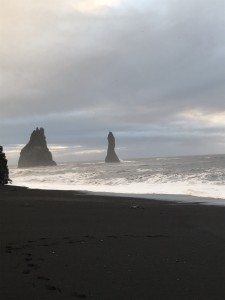 A highlight of this trip for me was going to be the glacier climb, which I ended up not doing. It was raining almost constantly and after gearing up and walking to the glacier, I realized the jacket I had brought was not waterproof. Water resistant, but not waterproof. Also my daughter's feet started to go numb so at the last minute, the two of us decided it was prudent for us to turn back.
Glaciers are receding at a dramatic pace. The glacier below, where the granddaughters enjoyed the exhilarating hike, has receded 110 meters in the last twelve months.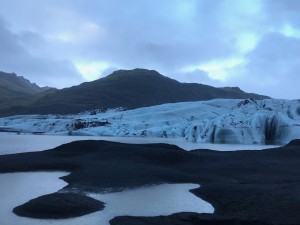 Daughter Jocelyn and I dried out and warmed up in the toilet building while the girls were on the ice. Having no book to read or cell service, I enjoyed talking to the owners of this enterprise who rented climbing equipment to rescue workers. As they said, "we've got some stories to tell." The glaciers are national parks so anyone can go climb a glacier. This means folks attempt to go on this ice formation that has many crevices and get into all sorts of trouble since they do not have proper gear or a guide. Other Iceland trivia I learned is that there are only three inexpensive items in Iceland: geothermal heat, electricity and water. Everything else is dear. And that tourism in Iceland has exploded since 2013 when the volcano erupted, strewing ash across Europe and closing airports for weeks. This put Iceland on the map as a desirable "destination."
This trip was intended to be an opportunity to spend time with my granddaughters, the older two from my older daughter Blair and the younger, from my daughter, Jocelyn. My three grandsons are younger, so I look forward to a trip with them in the future, with both or one daughter along.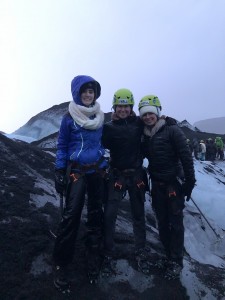 ---