The air in New Zealand is intoxicatingly pure, the scenery so sharply defined you think you are inside a post card and the late summer sun and temperature is perfection: 70-75 degrees. South Island, especially, is all about the scenery. One of my daughters  joined me for this last two weeks of my trip. We rented a car and I practiced first driving on the left hand side of the road. We took a short journey from Queenstown to Wanaka that was through mountains of hairpin curve narrow, narrow roads. Later we learned Crown Range Road is one of the most beautiful drives in all of New Zealand; also, it is listed on the website dangerous roads.org. Harrowing!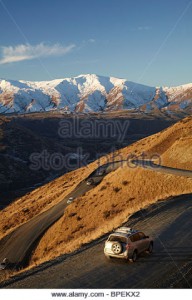 I did not take the above picture of the Crown Range road, obviously.  I copied it from the internet so you can see what I mean about the  winding roads.  This one was actually tame.
The drive from Queenstown up the West Coast was not only scenic, it was like we were the only inhabitants. We could drive for 20 minutes and not see another car.  Most of the towns had a population of less than 500 people.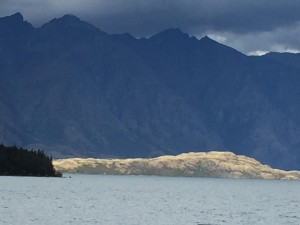 This was taken on the drive to Fox Glacier.
As was this one, at a turn off to see The Blue Pools: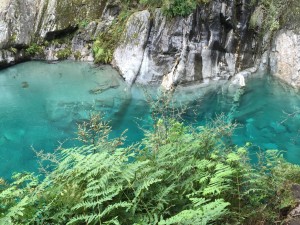 We hiked everyday in national parks along the way from Fox Glacier up to Nelson.  In one park we went for an hour and a half hike and did not see another person.   Flax grows abundantly in this country.  It was a staple for the Maori who used it for clothing.  Actually, I went to a weaving factory in the North Island where women were still  weaving clothing made from the flax.  You have to strip the leaves with a mussel shell until the thin white inner fiber is revealed.  This  is washed and dried then stripped into threads and woven.  It takes days to make a garment!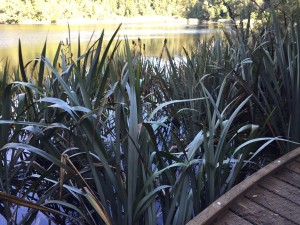 About a mile from the Pacific Ocean we came to a cattle crossing that was actually in service.  The cattle driver chatted with us for a bit and we learned he had 450 head of dairy cattle.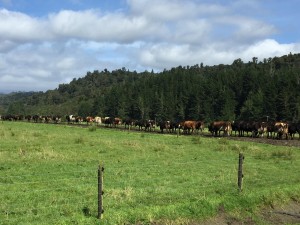 Daughter, Blair, pictured at Pancake Rocks: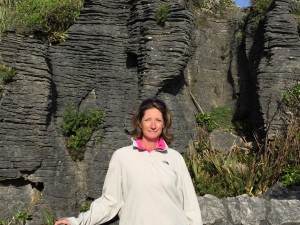 Below is New Zealand's longest swinging bridge.  Not sure how high up it is but if you look closely you can see someone walking across it.  And, yes, we made the walk over and back but I was  worried I might drop my IPhone if I stopped to take a snapshot. When 15 people are walking on the bridge it is wobbly.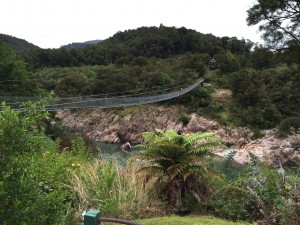 In Nelson we have been staying in a delightful AirBnB that overlooks the Tasman Sea.  This said, the tide this time of year is low most of the daylight hours which mans we looked out at mud most of the time when we were at the house.  Today we took a three hour walk in Abel Tasman National Park where the beautiful sea was always beside us: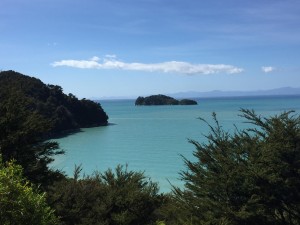 Now we are back in Nelson for our last night here.  Tomorrow we leave for Picton then head down the East Coast.  We have enjoyed our Nelson stay which has been enhanced by the unexpected pleasure of laying hens in the back yard.  And, they do give us eggs!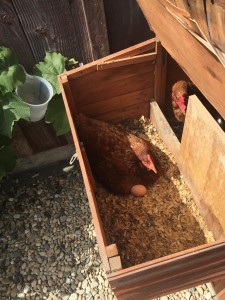 ---