The  featured image shows the Nomad Inn, a guest house in Muscat. It attracts travelers of all types as well as houses ex-pats who work in Oman.  The canopied balcony is right outside the room where I have been staying for a week.  The roof deck is where there is a communal dinner in the evening and the upper deck is furnished with tents for back packers.
Here is my guide, Ghassan, a 22 year old college senior majoring in mechanical engineering, who is helping Eddy, an Irishman currently living and teaching English in an American school in Doha, Qatar, (and shared the cost with me of trips outside the capital), tie a turban so his shaved head would not get baked by the fierce sun.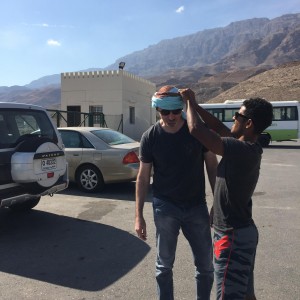 And, here are my dinner companions: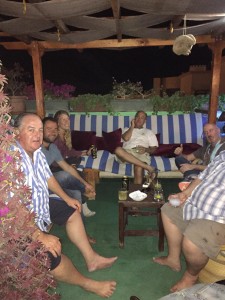 From left to right: Chris is South African and is a marketing consultant to various businesses. Next to him is a Dutch couple backpacking and in between jobs.  On the sofa seated alone is Chris, the owner.  He is British, retired from Shell Oil five years ago and opened the Inn. Next to him is Eddy the school teacher. Only the bottom half of Peter is shown.  He also is from South Africa, formerly with McKinsey & Company and now is with the Bank of Oman.  Not pictured is Ahmed, who is from Turkey and is an electrical engineer for an Omani company. All very interesting people.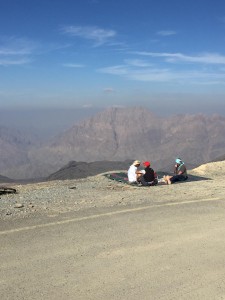 The Jebel Akhdar mountain range in Oman actually is beautiful.  Ghassan, Eddy and I had a picnic lunch overlooking the view.  Joining us was Hans, a Dutch ex-pat Oman Air pilot who rode his mountain bike  22k up the hill and arrived at the top of the peak just as we were laying out sandwiches.
Eddy and I had many hours of conversation with Ghassan about life and love as a young conservative Muslim. One thing he told us is that Omani men in general do not have much of a work ethic so all the highly skilled jobs are performed by men from other countries.
---