The featured image shows a rifle and the Arabic lettering spells "gun gallery."  I took this photograph in the Nizwa Souk, or bazaar. Oman men love rifles and swords, especially to wear at weddings. Wearing both a rifle and a sword, as well as your family dagger tucked in your waist scarf,  at a wedding is the ultimate "cool." No one shoots rifles. Murder is practically unknown in Oman culture. There are no handguns. The Oman people are exceptionally honest; theft also is practically unknown. People park their cars in front of the supermarket, leave the engine on to keep the a/c running and go inside to pick up a few items.
This is my last post from Oman, so here are some trivia questions:
What is the national drink of Oman?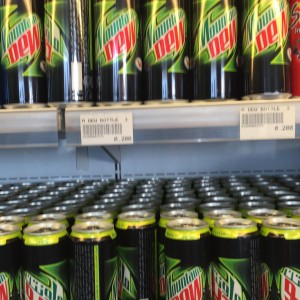 Yep.  Mountain Dew.
What are the favorite condiments in Oman restaurants? McIhenny tobacco and Heinz ketsup. On every table in every restaurant I saw in Muscat  and Nizwa, no matter what the cuisine.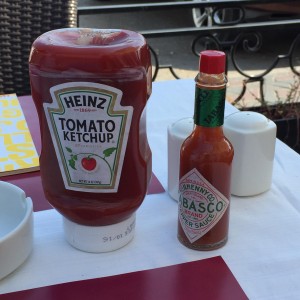 What is the main health concern in Oman?  Inactivity leading to obesity and diabetes. The Sultan is trying mightily to get Omanis up and out of their automobiles.  The Omani favorite pastime?  Driving your car(s). The local bottled water companies have this encouraging label: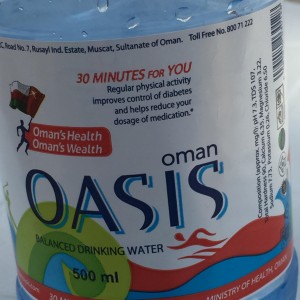 The airport direction below was confusing to me. After you leave the main concourse and head for the loo, there are no signs in English, only Arabic. More than once I went into the prayer room by accident where women were bowed, head to the floor, praying.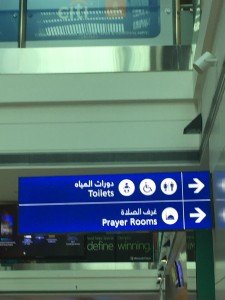 And speaking of toilets, am sure you want to know what they are like in Oman.  Traveling for three days outside the capital I was apprehensive about the restroom situation.  Would there be any along the road? I need not have worried, although the guide books do not mention this necessity of life and if you have to prepare. In the Grand Mosque, the Royal Opera House and in the Nomad Inn, the toilets were just like in the US except they all have the hand held bidet attached to the wall.  The "worst " facility, not because of cleanliness but because of the inability to get comfortable, is this toilet model, which is common in gas stations, the Souk and restaurants in the boonies.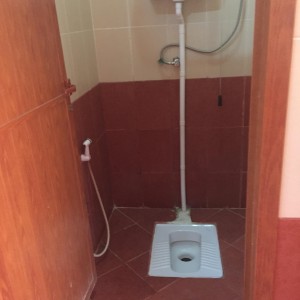 The Omanis are very clean people. Always there was soap available for hand washing in the toilet room.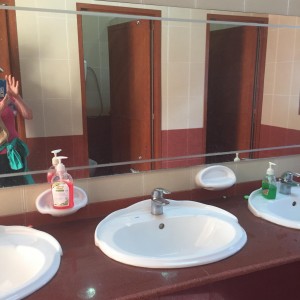 Good bye to Oman.  What an extraordinary time I had there!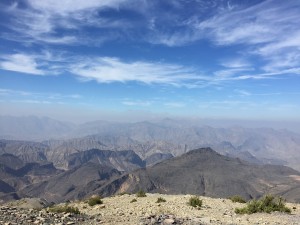 ---