The featured image is a view taken while walking around in General San Martin park.  The  nearly 1000 acre park was built in the early 1900s and has something for everyone – a zoo, an anthropology museum, a rowing lake, a boarding school for poor children and orphans, an elite country club, football stadiums, a hospital, a university, a rose garden with 500 varieties and 50,000 trees of 750 varieties.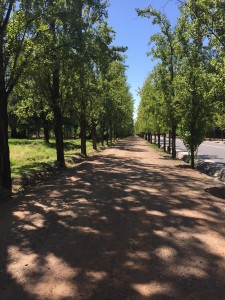 For the first time since I arrived I witnessed the watering system in action. The canals, locally called "acequias" are periodically allowed to fill with enough water to give all the trees a healthy soak.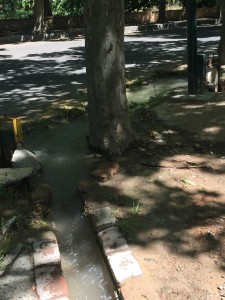 There is an abundance of statuary throughout the park, much of it unattributed because each President since 1900 rearranged the art work to suit his taste and somehow the artists names vanished during the multiple relocations. The principal statue, however, is Fuente de los Continentes.  Made entirely of cast iron by French sculptor Jean-Baptist Carpeaux in 1874,  this dramatic set of sculptures represents the four continents (made before Oceania and Antarctica were classified as such) and is meant to show the diversity of humankind. This sculpture is the number one favored backdrop in Mendoza  for wedding pictures.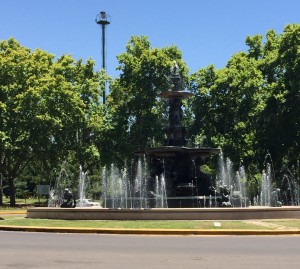 Across the lake is a tribute to local cartoonist, Quino, who in the 1960's created  the comic strip, Mafalda, whose creation was inspired by Peanuts and Nancy and is beloved throughout South America. On You Tube you can see video clips of Mafalda, a six year old girl who asks questions that make adults uncomfortable. A major difference between Mafalda and Peanuts is that adults are never seen in Peanuts.  Mafalda's parents are very present.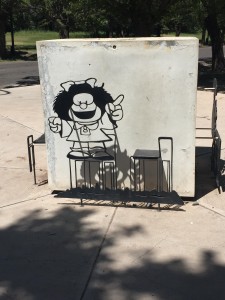 Tours for Tips offers 3 hour tours through  the park everyday. As it turned out, I was the only person to show up yesterday for the 11 am tour!  It was a privilege to have these two guides all to myself.  Marcelo is in the tourism business full time; Begonia is a high school history teacher who joins up with Tours for Tips in the summer.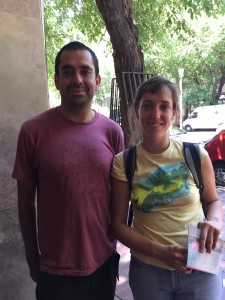 ---