What  I enjoy most about travel is recreating my daily routine in an environment that may or may not be compatible. Since I retired, I arise at 7:30 and go to bed at 11.  I eat breakfast at 8, lunch at 1 and dinner at 7:30-8.  If I lived like a Mendoza local, I would  be up and eating breakfast at 8, have lunch at 1, then have a siesta until 5 or 6.  Then I would have a "second breakfast", like a coffee and empanadas. If I were a young person, I would go to the bars between 7-9 to take advantage of the 2 for 1 drink specials. Although restaurants open at 8 pm for dinner, this seems to accommodate tourists; local residents do not go out to eat until 10 or 11 pm.  This includes the children. The few times I have eaten in restaurants, I am usually the only person dining at 9 pm.  Most often I have dinner in a my apartment.  The evenings I "dined" out were at  Maria Antonieta. I read it is the best restaurant in Mendoza.  Did not have to worry about getting a reservation because I was not fighting for a coveted seat at 11 pm.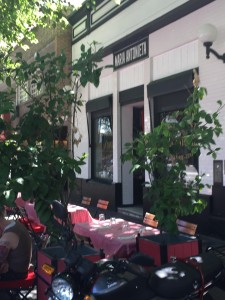 The mornings here are lovely. Temperatures in the low 80s, sunny and slightly breezy.  The sidewalk cafes are filled with people having breakfast or a coffee.  My first activity of the day is to visit the corner fruit and vegetable market: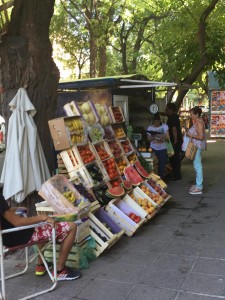 Then, depending on my bottled water supply:(water throughout Argentina  is safe to drink but it has a high mineral content that my stomach did not like so am now paying for water) and yoghurt breakfast supply, I go to the supermarket, which looks just like any supermarket in the US except nothing is marked in English so on occasion I have made some strange purchases, thinking an item was one thing and it turned out to be something else.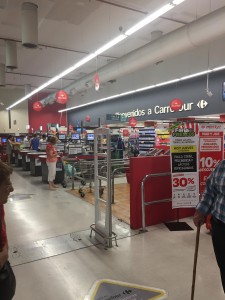 I have breakfast on the spacious terrace that is part of my AirBnB rental: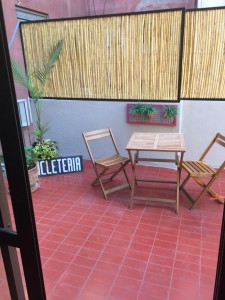 If I do not take an 11 am tour, I stroll about the various plazas during the morning  and enjoy the weather. There are two eat in/carry out cafes near my apartment. Govinda offers a vegan buffet that includes cold and hot dishes. Not always sure what I am eating but  it is always well prepared  and inexpensive, $4 for all I can eat.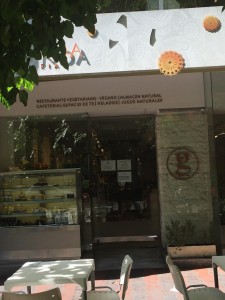 Most evenings I make a salad from the fresh fruit and vegetable  stand and supplement with the $5 daily special pasta from Napoletano.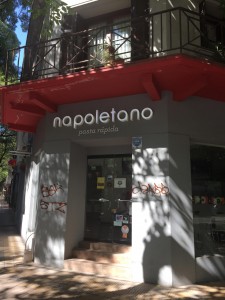 Before the streets button up for siesta at 2 pm, I take another stroll through the city shopping plaza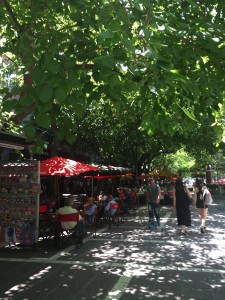 And the Plaza Independencia to listen to a  free lunch time concert: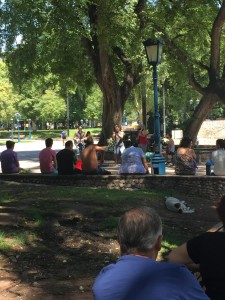 As I walked up, this group was tearing through a rendition of Elvis' Burning Love, followed by Pink Floyd's Money.
Always I make note of the music playing in countries outside the US. Since I leave tomorrow for Chile, here is a list of some of the music I have heard in Argentina so far: cab drivers in Buenos Aires listen to  80s American rock.  At the  magnificent  El Ateneo bookstore where I looked at books for several hours, Frank Sinatra was piped in the entire time. Waiting in line for my turn at the ATM, A Hard Day's Night was the background offering. On the Mendoza City Bus Tour in between English commentaries I was forced to listen to endless repetitions of the Red Hot Chili Peppers' Californication.  One restaurant where I ate dinner had a TV on the wall where an entertainer sang  Phil Collins' In the Air Tonight. Walking through the art collection on the 17th floor of the Sheraton in Mendoza, the piped in music was  Queen's You're My Best Friend.
to  attend the many free lunch time concerts:
---