So what is there to do on Sunday afternoon in La Paz, Bolivia? Check out the website on the phenomenon that is women's wrestling. According to my tour guide, even the WWF has welcomed them.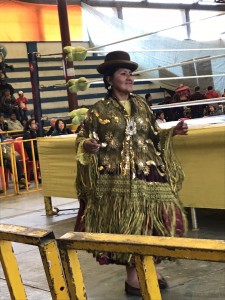 First, the ladies must make their grand entrance. "Choletas" is an affectionate term for the women who are descendants of the original Aymara population. Their outfits are striking. They wear full skirts with layers of petticoats, a blouse and multiple serapes to keep warm. Also they wear bowler hats. They do take off the hat before entering the ring but wear their traditional dress and sandals or low heeled pumps.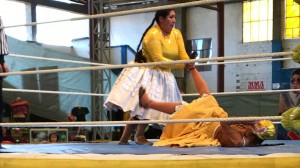 The ladies, like their male wrestling counterparts are a combination of being acrobats, dancers, clowns and actors. The two hour show was hilarious.
I had not expected to like La Paz. Actually, last fall when trying to get a visa to enter Bolivia became such a hassle I actually tried to cancel that part of my trip. The cost to do so would have nearly doubled my original ticket so I kept with my plan. After arriving in a driving rainstorm Saturday night and sitting in a cab for two hours to get to my hotel, I decided I was going to be miserable for five days. Luckily, yesterday was sunny and pleasant and the discovery of delicious food has helped me really enjoy this city.
The altitude has not bothered me much. Landing at 13,320 feet above sea level one would think you would be gasping for air. I obeyed the rules and drank coca mate tea upon arrival, had a light supper and went to bed early. I've not had a headache or felt faint. I did notice I had to stop a couple of times to catch my breath walking uphill carrying a 3 liter bottle of water. Today I went for a city walking tour of three hours, all up and down hills and it was fine.
This is the most crowded city I have visited: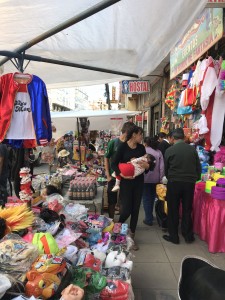 The sidewalks must accommodate street sellers on either side plus a walkway for pedestrians. It is comical. Add to this, the streets are lined with parked cars and bumper to bumper two way traffic at every hour of the day. My greatest fear here is being hit by a car although since traffic barely moves it would not be fatal.
Had not expected to like the food particularly but must say it is fabulous. Here is my lunch from yesterday. Peanut soup with potatoes, carrots and red peppers: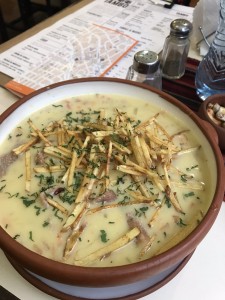 And, the fruits are amazing. Here is my favorite juice bar where a large blended fruit drink is $1.50. In the next stand, which you cannot really see, a woman sells avacado and tomato sandwiches for 75 cents.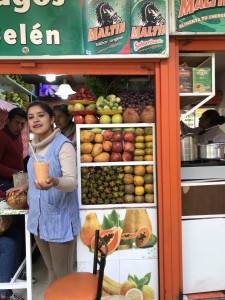 ---