The featured image is a photo I took last Sunday night when I went out for my first dinner in Salvador. It captures the essence of this happening tourist destination wherein modern street vendors sell their wares in front of buildings and statuary from the 1500s. I had read about  Bahian food with its  African roots and was eager to try Moqueca,  a chili pepper, palm oil, coconut milk based dish combined with seafood and spices.  But then I met Marcos, my new best friend and private guide. He is fanatical about healthy eating and encourages me to forego the palm oil based cuisine in favor of "soups" So here was my first meal of Bahia: no palm oil shrimp soup with tomato and spices served with rice.  Delicious.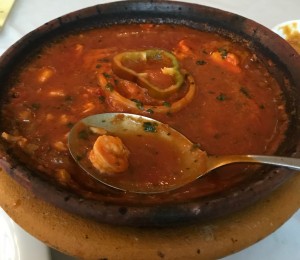 Marcos is a college educated 40 something local who speaks flawless English as well as German, French,Spanish and some Arabic.  He is a free lance tour guide for cruise ships stopping in the local port.  He was recommended by my hotel, another sweet, small hotel right in the downtown historic district.  Easy walk everywhere. How could you not trust the recommendation of a hotel of 30 rooms that has a bar that looks like this?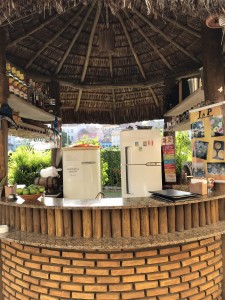 Notice the little call bell on the left. You just push it and within seconds someone appears from the front desk or the laundry room or the kitchen to serve you.  Bar opens at 10 am, right after breakfast is cleaned up. You can order coffee, water, beer, wine and cocktails until all hours of the night.
Only one person on staff speaks English. So far have not encountered anyone else in my two days here who speaks English. Compared to São Paulo, Salvador is a tourist trap, not in a bad way, but you have to pay for everything here.  There are no free walking tours.  The internet says that they are on holiday.  Marcos says they could not compete with the better tours, all of which are private. So, I paid Marcos for a 3 hour walking tour yesterday, roughly $45.  It 'was worth it.  I learned much more than I would have otherwise known.  We started in the central plaza, Pelourinho where slaves were publically whipped during the colonial period.
More recently the plaza has become a place for celebrity sighting.  Michael Jackson made a video here some years back.  Remember the one in which some woman in the crowd leaps upon him and knocks him to the ground?  Yesterday when Marcos and I were in the square, a Turkish  magazine was filming fashion models:

Still am experiencing my usual  disaffinity for Latin American food. The coffee is better in Brazil than elsewhere, meaning I can get it down. Breakfasts have scrambled eggs which taste strange and "sausage" which is actually a hot dog. Lots and lots of sweet rolls and yoghurt which is liquid, not clotted. Cannot manage to eat any of it. Both of the hotels I have stayed in so far offer whole wheat bread, but no toaster.  The butter is okay and the jam barely passable.  Fruit is out of this world so I have a bit of bread and butter and platefuls of watermelon, pineapple, honeydew melon and mango. Tasty but not really filling.  Lunch yesterday I had a good salad of tomatoes, onions, beets, carrots, and cold, cooked English peas. Pretty good.  Will have it again today. Last night I went to  a dinner/show, not something I usually do, but how else would I see through dance the history of Africans in Salvador?  Marcos, ever attentive, walked me over to the venue after our tour and walked me through the buffet table (before it opened at 7 pm because he knows everyone in town) pointing out the to-be-avoided palm oil dishes. As it turned out, I hated everything except for a few items.  The grilled chicken tasted weird and I know from experience, I will not like the beef because the cut is unrecognizable and this off putting to my palate.  But the grilled salmon was excellent so I went back for more of that, and rice and beans.  The steamed shrimp probably would have been okay but they were tiny as my fingernail and needed to be pealed.  Too much work.  There were no vegetables that I could find.   Sorry for the data dump here but you readers know me and know I love to eat!!   The evening was totally worth the $60 price of admission, however.

The entertainment was extraordinary. Dancers acted out hundreds of years of  history from the import of slaves and their spiritual beliefs to modern times, ending with Samba. The modern group included male acrobats.  One in particular caught my eye.  I was dazzled by his multiple triple axis and handless cartwheels around the stage.  Not to mention the roll of his hips in Samba.  Wish I had a picture of his handsome face :

Marcos wrangled it with the owner that I get a front row seat. So, when  it was time to invite the audience up on stage to Samba, young hunky reached for my hands and led me onto the stage.  Be still, my heart.
---