When I think of Patagonia, one image that comes to mind is cypress wood, such as shown in the featured image.  This door is the entrance to a private home on a hillside in San Carlos de Bariloche.  My decision to take a 1,000 mile, 24 hour bus trip from Bariloche back to Buenos Aires was based on 1) my prior wonderful experience  on a 10 hour trip through the Andes from Mendoza to Santiago and 2)  my desire to ride through at least part of the Lake District from Bariloche to the capital of Rio Negro Province, Nequen.  I've none of the  photos of lakes, desert "forests", the Andes, and tiny villages taken over the course of seven hours as the light changed between 3:30 and  10 pm, because my cell phone was stolen before the Cloud could land my IPhone  pictures on my iPad.
When I travel, I am alert to theft. My important documents  are either in a hotel safe or on my person in a money belt tucked inside my underwear.  I have a small travel bag that I strap across my chest that holds sunglasses, a small amount of money and a credit card if I am going to a restaurant.  And, my cell phone.  I never use my cell phone in public where there are crowds, like on the metro. I take it out of my bag to snap a picture, always looking around to see if someone is near to me. And, I take it out when I call an Uber ride.
After I arrived at the bus station in Buenos Aires on Monday,  I walked six blocks before calling Uber. Retiro bus station is a place you do not want to hang around.  I walked to a corner on the main avenue and looked around.  A few people  were on the street but no one was near me. Took out my phone and was entering my information into Uber when a young girl whizzed by and lifted my phone from my two hands with the skill of a pro football player intercepting a pass.
On the plus side of my decision to take the bus is that the scenery was spectacular for the first seven hours. Then, when  it got dark, I ate dinner, read for awhile and went to sleep. After awakening at 9 am, there were only four hours left before we arrived in BA.  Figuring the food served on the bus would not be very good, I had shopped for dinner  in advance  and brought it  with me – fruit, cheese, cold cuts, nice bread and chocolate.  On the downside, the bus company I booked with, El Rapido Argentino, appeared to be down and out. Unlike the shiny new vehicle on my first trip, this bus was tattered.  Clean, but worn.  Whereas my first bus trip was with tourists from countries all over the world, my travel mates this time were local  families from small towns . Most of the travelers smoked.  Even though smoking was not allowed on the bus, the bus smelled like cigarettes anyway. The other bad news was that there was no electronics charger so  I had to go easy reading books on my IPad.
I rationalized treating myself to a very nice hotel room in Buenos Aires my last two days here because I slept one night on the bus and will spend tonight on an airplane. Am in walking distance of many museums and galleries. Yesterday I visited the MALBA. I was eager to see some of the works of art I  had admired five years ago when I was in Buenos Aires.  Alas, most of those I had treasured had been replaced. But one was still there: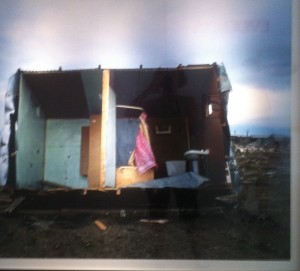 This painting is titled: Landscape on the Outskirts.  Seeing it in the gallery felt like visiting with an old friend.  And, I saw a photograph that I had seen a few weeks ago in the Belles Artes Musum in Santiago: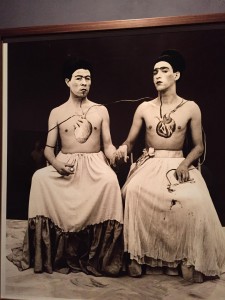 The exhibit of seven photographs was titled "Masulino."
The theft of my cell phone  has resulted in my feeling more eager to  get back home than sad that another travel period is ending. Now, time to think about where to go next!
---