If you think the featured image shows two butterflies mating, you are right. The female paralyzes the male and stays aboard for at least 14 hours to  make sure all her eggs are fertilized.
The butterfly sanctuary in the tropical rainforest of Kuranda, Australia, was far more impressive than the fish and coral at The Great Barrier Reef. The Reef was disappointing. Maybe an underwater camera was needed but these photos, taken in a  semi-sub,  are an accurate rendering of what  I actually  saw: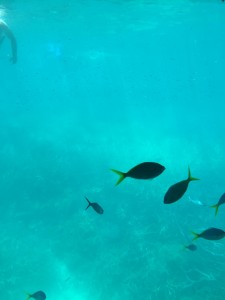 This week marks the half way point of my trip.  Several people have asked  me in email if there have been downsides  to my adventure or if it has all been glorious.  Here are some of the surprises, good and not so good.  In no particular order….
I have not had a good cup of coffee since I left the US.  Mostly, coffee is  instant Nescafé.  Really?  Thought that went out in 1958.  In Australia, you can get a "long black" which is close to the Italian Americano and is really, really strong.  Even Starbucks does not serve their usual breakfast blend, only cappuccinos and lattes, both with whole milk only.  I have made do with breakfast tea but am not happy about it. The cafe across the street where I am in Cairns currently makes a passable long black.
The  AirBnB hostings so far have been uniformly excellent.  I like it better when the host is on the premises; I feel less anonymous.
All my flights have been hassle free and with  on time departures and arrivals.  Emirates Air remains my favorite airline  because the economy seats are quite roomy and recline to a near bed level – which made my 13 hour flight from Dubai to Perth a pleasure.
Oman and Australia are more expensive than the US so I bridled at times at the high cost of taxis, in particular, and restaurants. Groceries were reasonable, although I did not buy many groceries – cereal and milk for breakfast.  And a small bottle of water cost US $3 or more.  The water is safe to drink everywhere I have been but when you are out in the heat all day, the refrigerated water bottle  I start out with soon reaches a temperature suitable to add a tea bag.  So, I had to purchase 2-3 bottles  cold water each day  to keep hydrated.
Not having a car has meant I have missed out on visiting some places but traveling alone where the driving is on the left and not having someone else mind the map felt too dangerous to me.  So walking, buses, taxis, Uber (so far available only in Cape Town and Perth) and the occasional day tour have been my ways of getting around. Mostly , it has been good.
And, how has it been traveling alone? Except for not having someone to share a car with, very okay.  Have met interesting people in each place I have visited so do not feel "lonely."
What is it like being an American abroad during this US election year?Here is an example of  the kinds of things I have had to face:  in CapeTown I was having lunch next to a table of five women in their 40s.  Reading her phone, one woman exclaimed, "Oh my God, Donald Trump just said that Brussels is a hell hole!! Can you believe it???"  Another woman said, "what a fool?" A few minutes later a third woman noticed me sitting there, determined without asking that I am an American and said, "we feel so sorry for you!" Nothing is worse that  being the object of another's pity so I smiled and said,  "Don't."
---