German food, mostly.  Lots of beer gardens and lots of sausage.  Above is a hearty breakfast I ordered my first morning in a coffee house in Swakopmund.  It was the least amount of food.
The brown bread cost extra, bringing the cost of breakfast, including coffee, up to $4.00.
A word about the coffee.  There is either espresso or latte or Nescafé instant.  Same is true in South Africa.
Most nights I ate at Guthmann's which had German food, of course, but also other outstanding continental cuisine.
One of the highlights of dining in Windhoek was the Zoo cafe.  There is no zoo in Windhoek but the majority of restaurants close on Sunday so I asked a security guard where I should go for dinner.
"KFC," he said, no smile. "Or the Hilton."
Told him it was a toss up as to which was worse and he laughed.
He escorted me to Zoo, which was the only Namibian cuisine I encountered.  Okra Ragout. Delicious. I also ordered a cocktail named The Vibrator. It was a strange concoction of juices, Southern Comfort "syrup," a salt rimmed glass, complete with cute umbrella, a spoon and a straw. Needs a new name; a turn on it was not!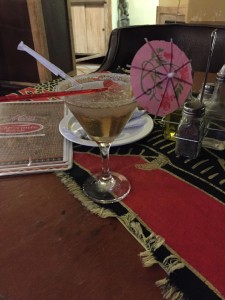 ---