How many years has it been, decades probably, that I would have shown up for a free, three hour city walking tour, wearing high heeled shoes.  It was a gorgeous, 84 degree low humidity day here in Buenos Aires and the woman lasted the entire trip. Some of the older folks tired out, or got hungry, and left the tour. Many interesting things to see but my attention kept going to her as we walked streets paved in two inch tiles with deep grout holding them in place.
The tour was in English so I expected to see mostly other Americans but there were few of us.  At some point the guide asked each member of our group of 75 where we were from and at least 15 countries were represented- India, Israel, Lebanon, Denmark, Switzerland, Canada, the U.K., Germany, etc.  Two cool stories:
According to my guide, there were two rich Argentinian women who were enemies. One had built a cathedral, a teeny part of which of you can see behind this very tall building. After one woman built the cathedral, her enemy bought the land in front of the cathedral and erected this enormous structure so nobody could see the cathedral any longer.  This large building is said to be the most hated or most loved building in Buenos Aires.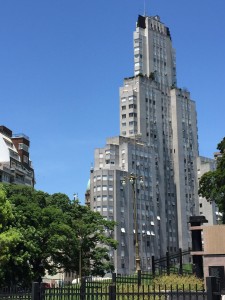 And another picture which captures the architecture of Buenos Aires:  it is eclectic.  Colonial archicture remains next to modern in sometimes stark contrast.  I love this juxtaposition of colonial and modern structures.  That the coral color was continued makes the contrast sort of companionable.
---