Translated from Katta Djinoong, the text in the featured image reads, "I see you."  This is part of a current exhibit of aboriginal art at the  Perth Institute of Contemporary Art. So many of the paintings and sculptures are extraordinary so I had to be judicious in selecting a few for the blog. In addition to the I See You work, here is my second favorite: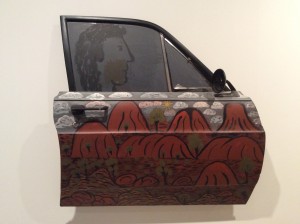 Yes. A car door.  But the story behind it is fascinating.  In the Outback, apparently the landscape is littered with parts of automobiles, many of them  decades old.  The aboriginal tribes are so far apart and so far from anything they need like modern medicines, that they dredge the land to unearth old auto parts and somehow manage to fashion  cars out of them that actually run!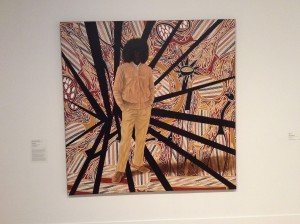 Modern aborigine who must have access to some city influence because he is stylin.'
Titled, Black Beauty, this larger than life sculpture dominates the Gallery foyer!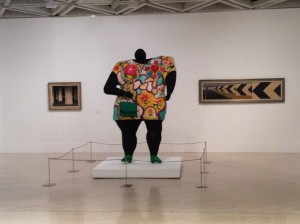 ---