Remember Statesboro Blues?  The song was written by Blind Willie McTell and popularized by The Allman Brothers Band.  And remember the lady of 6,000 songs in the book and film "Midnight in the Garden of Good and Evil"? She was from Statesboro.
The featured image is a home currently being used as a sorority house  for women attending Georgia Southern University. It sits near the beginning of what hopes to become The Blue Mile, now a benighted stretch of highway 301 that connects "downtown" Statesboro to the entrance of the University's 900 acre campus.
 The Blue Mile project is one of 15 finalists, winnowed down from 350 entries, in the America's Best Communities competition sponsored by The Weather Channel. The three winners will divvy up a $10 million initiative to stimulate economic revitalization in rural small towns and cities.  Winners will be announced April 27th.  Why do I care about The Blue Mile project?
My mother received a PhD in Political Science when she was 50. After a few years of teaching at Arkansas State University in Jonesboro, AR, she was offered in 1976 a position as Chair of the department of Political Science at what was then Georgia Southern College. Statesboro became a part of my world.
Here is the proposed Blue Mile stretch: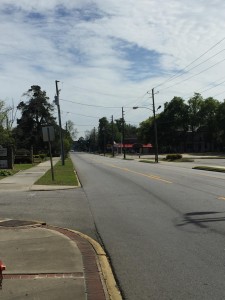 The strip currently hosts a few characterful old Inns, defunct gas stations, aging Popeye's, $39 a night no name motels and many vacant lots.  The hope of revitalization lies in that proven by other deteriorated areas in larger communities like Washington, DC and Baltimore: start by bringing in the artists who need cheap rents.  Coffee houses, bars and restaurants will follow.  Pictured below is the new art center. A theater recently opened next door. Downtown Statesboro could become cool and profitable if the city can lure 22,000 college kids away from their campus condos.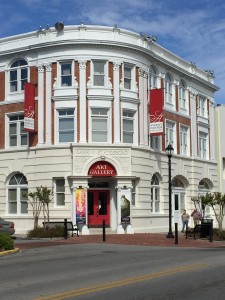 Below is another view of the Blue Mile project.  See the red brick building?  My brother, Tim, bought  it two years ago to develop it into first floor retail space and three two bedroom apartments.  As in many small southern towns in agricultural areas, the downtown boasts beautiful old architecture – churches, municipal buildings, and mansions, which were all but abandoned as residents flocked to shiny new shopping malls.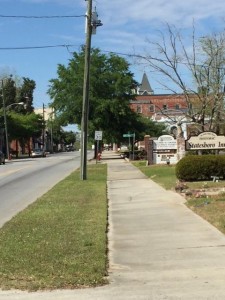 May Statesboro be a winner of this competition!
---