You have seen photographs ofAyers Rock countless times.  Yet, I could not bring myself to post any other featured image!  No natural wonder here could top this one.  At over 230 million years old, it's power to dazzle is eternal.  Hundreds gather at the sunset viewing site to watch the rock change color as the sun goes down.
Being a traveler here is not easy.  First of all, the heat is blistering and I say this as a warm weather lover. So at 3 pm yesterday I was on a tour of the  Kata Tjuta  National Park and part of the tour was an hour Walpa Gorge  walk: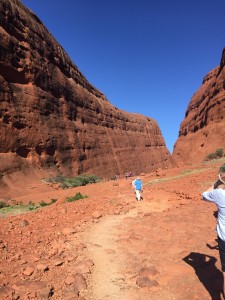 The instruction was everyone had to take a liter of water and take a sip every  few minutes.  The temperature was 42 C, which is just under 108 F.  I was wearing a sundress, with a long sleeved cotton shirt, hiking boots, SFP 84 cream all over my skin,  sun hat and fly net.  What sent me back to the airconditioned bus after 15 minutes was the sense of  the back of my legs being held against an oven ready cast  iron skillet.  No matter what level of sunscreen, my legs were starting to fry.
The fly net is a necessary $9 purchase and must be worn outdoors from sunup to sunset.  Those desert flies head right for your face and if you are talking they fly into your  mouth.  The fly net is hot in itself and lowers your vision. Like sitting on a screen porch and looking outdoors through the blackest screen.  I may look silly in the fly net but everyone else looks like I do: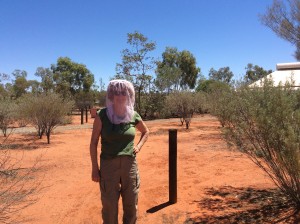 The good news is that at sundown the flies magically disappear, the temperature drops and a pleasant breeze picks up!
---