The weather  in Buenos Aires was perfect todsy:  80 degrees and sunny wirh no humidity. I have had weird banking issues I will not bore you with but my day was dominated by getting my money situation resolved.  I had to stay in the neighborhood since I could not get cash to go anywhere.  But lucky me!  My day began with a walk to the bank and I came upon these beautiful dogs.  Was there a dog walker who tied them to the tree so s/he could slip off and have a coffee?  Or were there a group of friends  who secured their pets and then met up a nearby cafe?  Expensive looking animals. Did not solve the puzzle.  All I know is that the dogs were in place for 30 minutes and looked quite happy as I had a snack and watched from across the street. When I returned from the bank, the dogs were gone.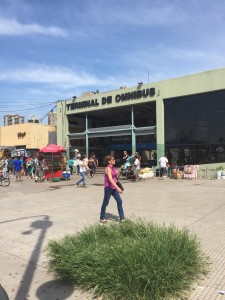 Feel proud of myself for finding the bus station and  buying a bus ticket for my 22 hour trip back from San Carlos de Bariloche to get my flight home from Buenos Aires on February 21st.  There were no "suites" left to purchase but I did get a "cama", meaning the seat reclines three quarters of the way. I have read that the bus transport in Argentina is outstanding which is why I am willing to spend a day and night on a bus.  Besides, it is $600 less than a one way plane ticket. And the scenery should be glorious.
My afternoon was highlighted by spending several hours in  El Ateneo, a bookstore in the Recoleta neighborhood where I am staying.
Online there are far better professional photos of this former theater. People come in and hang out and read all day, and, hopefully,  for the business,  leave with a book purchase.  Here is one of the reading rooms where I sat and leafed through  photography books.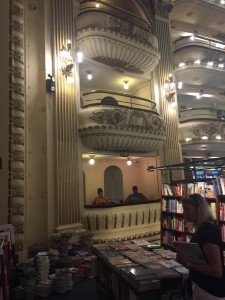 Next stop is Mendoza.  Weather promises to be sunny if a bit on the hot side – 90-96 during the day.
---